Home
About
Capri Club International Mansfield Notts. Branch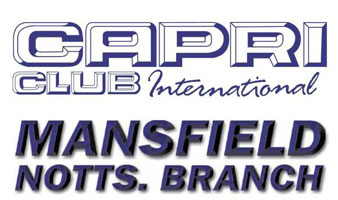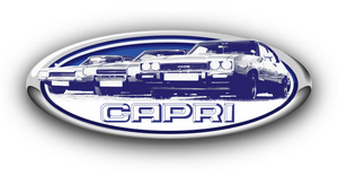 In December 1986 the last Capri rolled off the production line and by January 1987 the current Mansfield Notts branch was formed.
Our members come from throughout Nottinghamshire, Derbyshire, South Yorkshire, and even parts of Leicestershire. We meet centrally at the South Forest Leisure Complex, Clipstone Road, Edwinstowe NG21 9JA (1/2 mile from Center Parcs)  on the 1st & 3rd Thursday of each month from 8.15pm onwards.
All Capris are welcome - regardless of age or condition. The same goes for the owners - it does not matter what age or condition you are in!
Over the years we have built up a very strong identity within the Capri Club and general Classic Car scene. Travelling to shows in convoy and a great social atmosphere have created a very strong bond amongst members old and new.
A vast stock of display equipment built up over the years allows us to put on award winning displays at local and national events. We also stage our own Wonderland Classic & Sports Car Festival at Ferry Farm, Hoveringham,on the banks of the River Trent, Nottingham for every type of classic & sports car - click on the 'Wonderland' menu link for more details.

Contact: Alan Sutcliffe (Branch Secretary)
E: alan@capriclub2000.co.uk
M: 0771 4181250

Mansfield Notts. branch of Capri Club International : What can the Club offer?
Twice monthly meetings

Monthly newsletter packed with Event News, Member's Capri features and Show reports


Local, National and International events

Help, advice, spares & accessories

Special offers and merchandising

Social events, great friends and F.U.N!
We're a very active and friendly club. Pop along to one of our meetings and say "Hi".

Catch up with us on Facebook



MansfieldNottsCapriClub to see what we're chatting about.
Check out our events page for what we're up to and see what we're planning.

Annual membership fees as of 01.01.23:
£15.00 per member who usually attends club meetings*
£22.50 per household who usually attend meetings*
£20.00 per postal member who usually does not attend meetings. Includes 12 x monthly newsletters posted.
U16's FREE
*Includes occasional newsletters posted.

We award 1 point per Thursday night Club meeting attended and 3 points per Club event (listed on our Events Diary) attended - trophies awarded for the highest annual point scores (1st, 2nd, 3rd Male & Female). There is an extra bonus point available for every Thursday night Club meeting if you come along in your Capri.

Privacy Policy
Please click on the PDF to view our Privacy policy:


For more details contact :
Branch Secretary : Alan Sutcliffe
M: 0771 418 1250
E: alan@capriclub2000.co.uk