Home
Wonderland


Wonderland Classic & Sports Car Festival

2022

- June 25th & 26th
Ferry Farm - Hoveringham - Nottingham NG14 7JP
"Thank you!" to everybody who made Wonderland 2022 such a
success and thank you to Sarah Crabtree for putting a smile on
everybody's face from the moment she arived on site!
RESULTS:


Car of the night Saturday NLA 21V / Paul Sidebottom / Silver Vauxhall Chevette Works HSR


Capri MKI 1st / CPL 999H / David Southall / Silver Fox
Capri MKI 2nd / SAL 678L / Robert Butler / Sebring Red facelift
Capri MKII 1st / RGJ 603P / Paul Hitchen / White 'JPS'
Capri MKIII (4-cylinder) 1st / MRK 20W / Mark Misiura / Gold 2.0S
Capri MKIII (4-cylinder) 2nd / RHR 139X / M. Ward / 2.0GL
Capri MKIII (V6) 1st / LDL 393W / Mark Walker / 3.0S Janspeed
Capri MKIII (V6) 2nd / Dean Treadaway / Green 3.0S
Ford pre 1970 1st / YUL 386H / Alec Ross / Gold Cortina MKII 1600E
Ford pre 1970 2nd / JTF 627F / Wayne Davidge / Escort
Ford 1970 to 1980 1st / BPO 910W / Russ White / South African Red Cortina XR6
Ford 1970 to 1980 2nd / FUE 105M / Mark Rogers / Blue Cortina
Ford 1981 to 1990 1st / F571 SVV / Alan Williams / Red Escort estate
Ford 1981 to 1990 2nd /  H474 SWE / Darren Vincent / Fiesta RS Turbo
Ford 1991 to 2000 1st / X235 RPU / Vas Lashley / Racing Puma
Ford 1991 to 2000 2nd / K400 SKR / Shaun Rainford / Saphire Cosworth
Ford 2001 to 2010 1st / ST 52 CAL / Peter Smith / Focus ST
Ford 2001 to 2010 2nd / SH02 STU / Stuart Barlow / Focus MKI RS
Concours 1st / CKS 256 / Mike Wilkinson / Alvis TA21 DHC
Concours 1970 to 1994 1st / OUH 427M / Peter Newman / MG BGT V8
Concours 1970 to 1994 2nd / K21 MGR / Angela Taylor / MG RV8
Concours 1995 to 2010 1st / N722 OGH / Angela Taylor / Porsche 911 993 Targa
Concours 1995 to 2010 2nd / BCH 524 / Bernard Heidschuster / BWM 23M Coupe
American 1st / 176 XVN / Bill Farrant / Chevrolet Corvette
American 2nd / TGU 993L / Steve Taylor / Chevrolet Corvette
Modified pre 1990 1st / CUK 426F / Steve Taylor / VW Pickup
Modifield 1990 onwards 1st / M505 XEW / Martin Peace / VW Polo NKF
Modified 1990 onwards 2nd / D18 RAG / Richard Goodman / Ford Focus ST3
Vehicle of Special Interest 1st / VGP 611W / Mark Booth / MKII Ford Escort GP4 Rally
Vehicle of Special Interest 2nd / OBC 445K / Mike Hurran / Datsun 240L
Best Presented Club Stand: ST Owners Club
Best Themed Club Stand: Fordsport 'Crabbers Corner'
Car of the Show: 557 YUP / Clive Hardy / 1952 Chevrolet 3100 pickup
Thank you to Meguiar's, Castrol, Pilkington and Peter Best Insurance for the prize packages accompanying the trophies



Sarah 'Crabbers' Crabtree formerly of the TV show Bangers & Cash will be joining us at Wonderland 2022.
Come and meet Sarah who will be  promoting her brand new venture Evoke Classics and also her role of ambassador for the Sustainable Skills Network with the Association of Heritage Engineers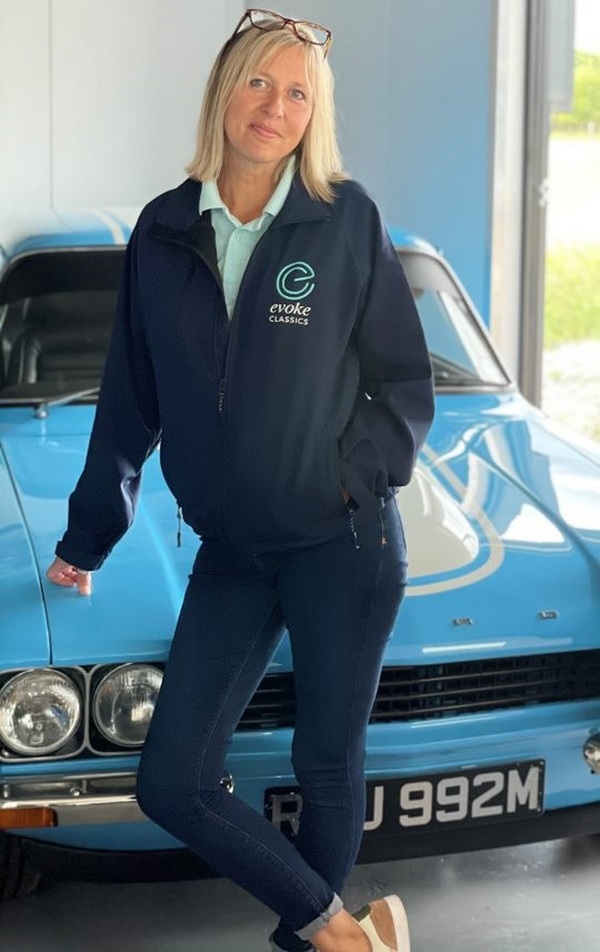 80's duo Radio Romantic live on stage Saturday night from 8pm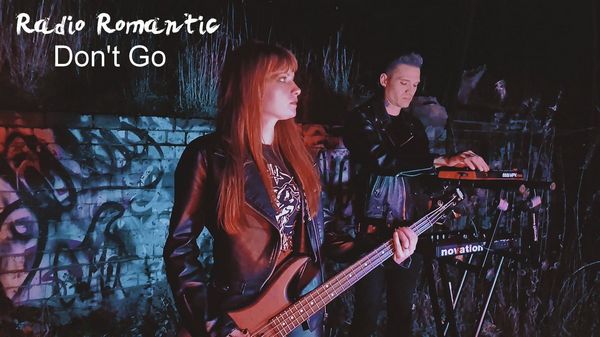 Mail voice choir on Sunday afternoon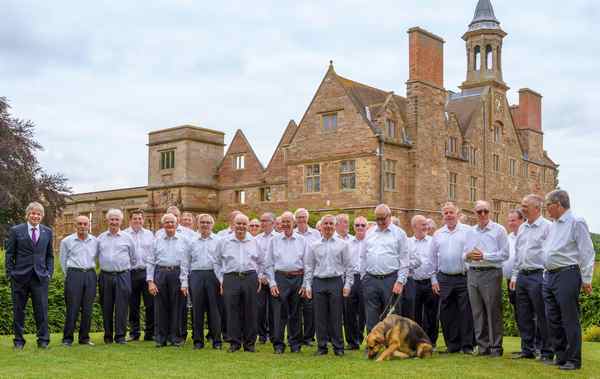 The Carlton (Nottingham) Male Voice Choir will be at Wonderland Sunday PM.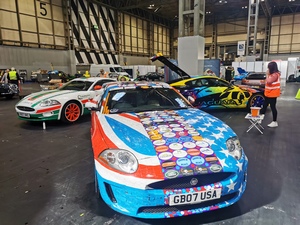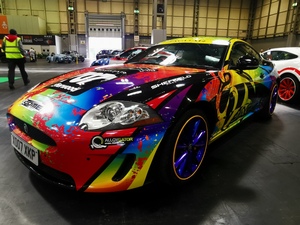 Sherwood Jaguar Racing fundraising at Wonderland 2022
We are delighted to confirm that Stuart Dixon is planning to bring up to six of his
Sherwood Jaguar Racing cars to Wonderland 2022.
Buy space on one of the Jag's for your name or company logo to help raise money
for the Bluebell Wood Children's Hopsice (nr Sheffield) or donate in advance at
www.justgiving.com/fundraising/sherwoodjaguarracing
The Great British Car Journey display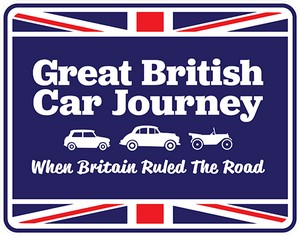 As part of our British theme this year we will be welcoming
a display of carsfrom Derbyshire's newest attraction:
The Great British Car Journey (Ambergate)
For more details about The Great British Car Journey:
www.greatbritishcarjourney.com


NEW Sponsor for 2022
We are proud to announce that POWERLITE have joined our prestigious 2022 sponsor
line-up. Suppliers of high torque starter motors, lightweight distributors and performance
dynamos . The original. The best. Check out the full range at www.powerlite-units.com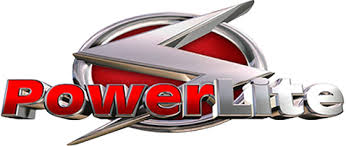 Entry forms for 2022 NOW AVAILABLE - click on the PDF below
or e-mail alan@capriclub2000.co.uk to request and entry form





Individual entry form




Club entry form




Trade entry form


"Thank you to everybody who came to Wonderland 2021. It was our biggest and best festival EVER - despite Covid restrictions - we made it work and we made it safe!"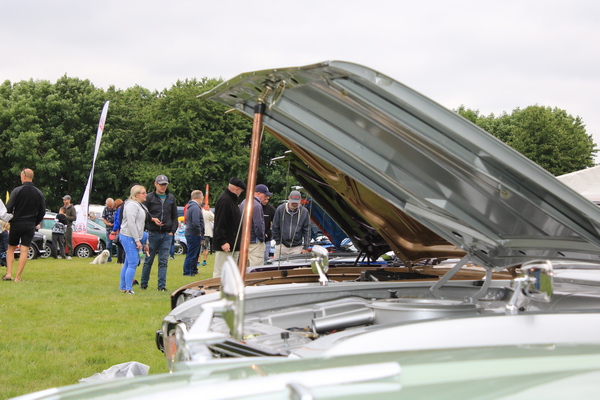 Click on the photo above for James Bailey's superb Wonderland 2021 video
James has more amazing videos on his YouTube channel from the 2021 shows with many planned for 2022

Below is a slide show of the highlights from our 2021 festival and a summary of the category winners.
Click on the PDF files to read the full story ...
Contact Alan on 0771 418 1250 or e-mail alan@capriclub2000.co.uk for more details

2021 Festival category winners

Capri MKI 1st place Dave Southall CPL 999H Silver Fox 1970 Capri MKI
Capri MKI 2nd place Robert Butler SAL 678L Sebring Red 1972 Capri MKI facelift
Capri MK2 1st place Paul Hitchin RGJ 603P White 1975 JPS
Capri MK3 (4 cylinder) 1st place Josh Harris MRK 20W Gold MKIII
Capri MK3 (4 cylinder) 2nd place Ray Tomlinson HVV 801T Cosmos Blue 1979 1600L
Capri MK3 (V6) 1st place Gary Roberts UTW 531W Cobalt Blue 1981 3.0 Ghia
Capri MK3 (V6) 2nd place Dean Treadaway HUM 795T Black 1979 3.0S
Ford pre 1970 1st place Alec Ross YUL 386H Gold 1969 Ford Cortina 1600E
Ford pre 1970 2nd place Wayne Davidge JTF 627F Green 1968 Ford Escort
Ford 1970 to 1980 1st place Simon Hoar ALY 331S Signal Amber 1978 Ford Cortina 2.3S
Ford 1970 to 1980 2nd place Mark Rogers FUE 105M Blue 1973 Blue Ford Cortina
Ford 1981 to 1990 1st place Gaz Davies C3 XRS White 1986 Ford Escort RS Turbo
Ford 1981 to 1990 2nd place Aaron Field D99 PWE White 1986 Ford Sierra Cosworth
Ford 1991 to 2000 1st place Derek Roberts P21 COP Red 1996 Ford Escort Cosworth
Ford 1991 to 2000 2nd place Trev Stocks NG78 ULS Red 1995 Ford Escort Cosworth
Ford 2001 to 2010 1st place Stuart Barlow SU02 5TU Blue 2003 ford Focus RS MKI
Ford 2001 to 2010 2nd place Pete Smith STOL White 2008 Ford Focus ST
Concours pre 1970 1st place Peter Draycott YSU 947 Red 1960 MGA MKI 1600
Concours pre 1970 2nd place Steve Lovatt 259 WNK Blue 1963 Rolls Royce Silver Cloud III
Concours 1970 to 1994 1st place Peter Newman OUH 427M Red 1973 MG BT V8
Concours 1970 to 1994 2nd place P&G Longmate L859 DOF Red 1993 Mini
Concours 1995 to 2010 1st place Mark Colledge YT05 TGX Quartz Grey 2005 Jaguar XJ6 (X350)
Concours 1995 to 2010 2nd place SJ Taylor P923 CFV red 1996 BMW 728i
American 1st place Andy Broome DJO 179R Black & Gold 1977 Pontiac Firebird Trans Am ('77 Special Edition)
American 2nd place Paul Robson M168 TAB Dark green 1994 Ford Mustang 
Modified pre 1990 1st place Gary Brady 935 XUB Turquoise 1953 Ford Angia
Modified pre 1990 2nd place Richard Lowe UUN 314J Purple 1971 Ford Cortina
Modified 1990 onwards 1st place Richard Goodman R4 GXL Silver 2007 Ford Mondeo Titanium X 2.5 Turbo
Modified 190 onwards 2nd place Matt Clarke V44 MEL Orange 2010 Ford Focus ST225
Vehicle of Special Interest 1st place Ian Barber CKE 869 Brown 1935 Morris 8 Hotrod V8
Vehicle of Special Interest 2nd place Gary Matthews GJC 474G Turquoise Blue 1969 Ford capri MKI Perana Rally Car
Furthest Travelled - Gary Matthews from Anglesey (176 miles)
Best Club Display - Fordsport
Car of the Show Saturday - DBE 52K Black 1972 Mercedes
Car of the Show Sunday - G828 VMG Blue Ford Escort 1.3 Popular

... well done to all our winners and to everybody who took part in the judging!
Click on the 4 x PDF's below for the full Wonderland 2021 story - Stay Safe, Stay Positive, see you next year!


Wonderland Classic & Sports Car Festival Privacy Policy
Please click on the PDF image for full details of our Privacy policy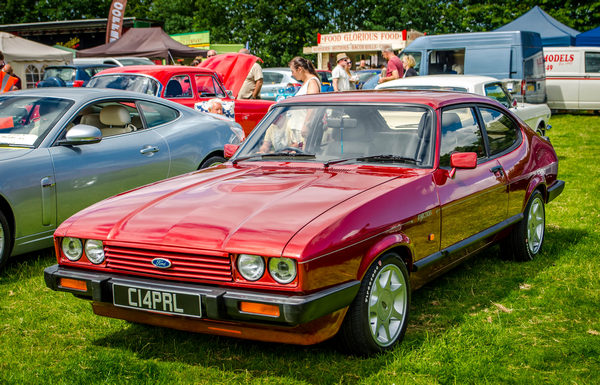 Facebook Pilkington Classics
Twitter @Pilkingtonclass
Instagram - Pilkingtonclassics

If you have a few minutes, please scroll down and look back at the history of our now iconic Wonderland Classic & Sports Car Festival ...


The Wonderland story 2001 - 2020
When did it all start? ... How did it start? ...
See photos and stories from 2001 as we celebrate our 20th festival year

PART 1: The early years at Wonderland Pleasure Park 2001 - 2007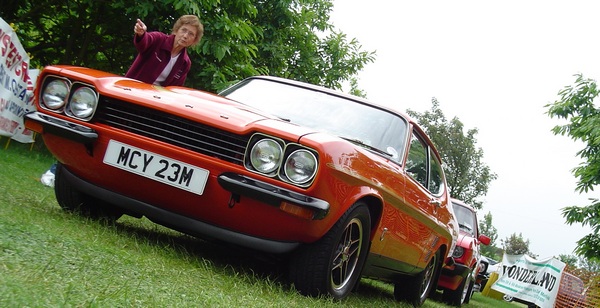 Way back at the turn of this century ... in August 2000, Rosemarie Revill (Darren's Mum, pictured above
- who sadly passed away in 2010) first came up with the idea of our Capri Club International Mansfield
Notts Branch staging it's own show. She already had a venue in mind - the Wonderland Pleasure Park,
just off the A614 White Post roundabout near Farnsfield, Notts.
plans were drawn up, site visits made and in early 2001 we started the promotional work for our
'Classic Wonderland Car Show'. The dates were June 9th & 10th, 2001. We always wanted our event to be 'fun'
and not just cars parked in a field. The combination of classic cars, a pleasure park, camping, and
Saturday nigh entertainment made our first event a great success. We included items from the
'Carry On Capri Camping' events staged in the late '90's (hosted by the Milton Keynes Capri Club) such as
team games and camping with your car so that BBQs and beers could be enjoyed without having to keep
moving cars from the campsite to the show field. The team games included team skiing, bonnet pulling,
tug-o-war, tyre lifts and alternator shot-putting. Clubs and individuals from across the country came and
had a fantastic first Wonderland experience.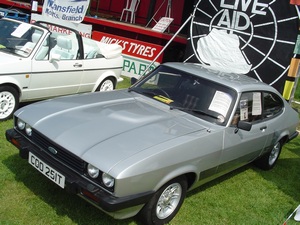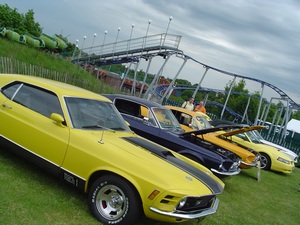 In 2004 we had the silver MKIII 3.0S 'Professionals' Capri on display (above left)
In the early years we included the 'Mustang National Day' (above right) within Wonderland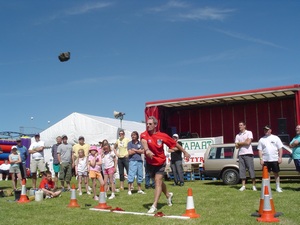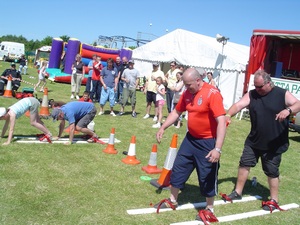 Team games on Saturday were always an important part of the show
Mark Naylor with a great technique in the Alternator Shot Put 2006 (above left)
The Wolverhampton Capri Club with 'Big Al.' make a steady start in the 2006 Team Ski event (above)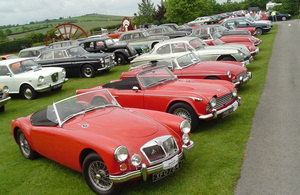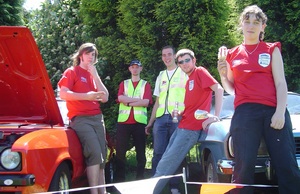 In 2005 (above left) about 70 cars from the South Yorkshire based 'Misson Run' tour came through our show
as part of their annual run.
Thoughful CREW members Sean, Pete, Sam, Craig and Alison in 2006 (above right)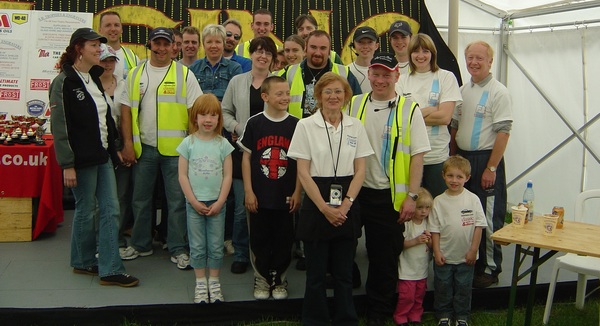 Check out how young we all look back in 2005 (above)!

PART 2: The move to Southwell Racecourse 2008 - 2011
By the end of the 2007 show, the owners of the Wonderland Pleasure Park told us that our event was too
big for the site and that we were taking up too much of the space allocated to his pleasure park visitors.
We had to move on and find a bigger venue!
Venues don't come much bigger in this area than Southwell Racecourse
- a vast sprawling site that had just been fully refurbished after severe floods a few years previously.
All the facilities were brand new - the bar; function room; loos; showers; immaculate lawns and parade ring area.
For our 2008 show we had moved into the BIG league!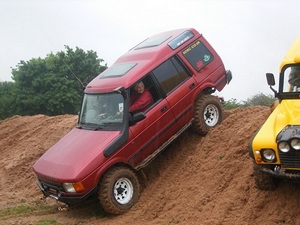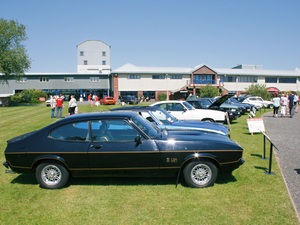 One legacy of the floods were huge piles of sand that had once been part of the racecourse itself.
We decided to make a feature of the sand 'dunes' in 2008 and invited local 4x4 owners to put on a display
(above left) - they loved crawling all over the sand in their 4x4's.
We created an 'Avenue of Capri's in 2009 on the beautiful lawns infront of the racecourse buildings to
celebrate'40 Years of the Capri' (above right).
The celebration was boosted by the fantastic turnout of the Capri MKII Register (below left) and the arrival
from Holland of Bram & Hedi with their black MKII 2.3 JPS Capri and a genuine RS2600.(below right).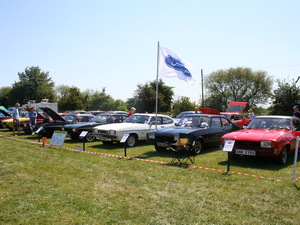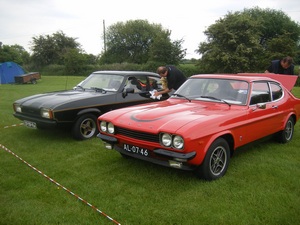 The 'party bus' was a restored London Routemaster double-deck bus (below left) kindly loaded to us by the
Nottingham Heritage centre at Ruddington. Driven to the racecourse in 2008 and 2009 by Pete Harrison.
Complete with upstairs bar, fridge, sink and sofa-style seating this was an ideal placeto have a
'Wonderland CREW' party - come rain or shine!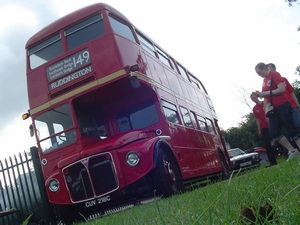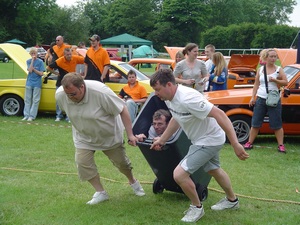 Team games were still as popular as ever in 2009 as Forsport demonstrate
with the Wheelie Bin Racing event (above right)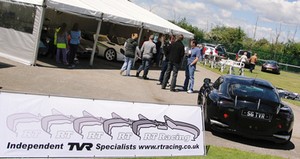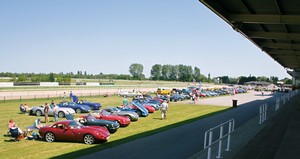 TVR Regional Days. From 2008 to 2016 we proudly included the TVR car Club East Midlands Regional Day
within our Wonderland  show. Here in 2010 (above left) the TVR display went 'into overdrive' with a
40ft trailer-mounted display marquee/transporter plus a huge turnout of TVR's on the 'EXOTICA' display
area in front of the main racecourse grandstand (above rght).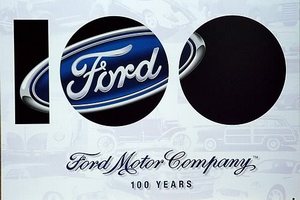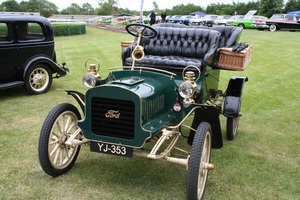 In 2011 we celebrated "100 Years of Ford" at Southwell Racecourse by creating a 'Centenary Avenue'
along the paths towards the racecourse grandstand. Star of the show was the 1904 Ford Model C (Above right).
This is THE OLDEST car that we have ever had at a Wonderland event!
The owner took many passengers on rides around the racecourse. We had a relatively 'new' 1913 Model-T
and a 1934 Model-Y at the start of the 'centenary Avenue (below left)
with many other Fords through the years making up the celebration display (below right).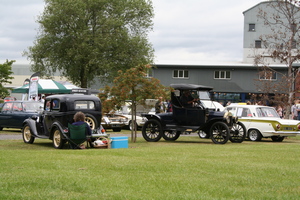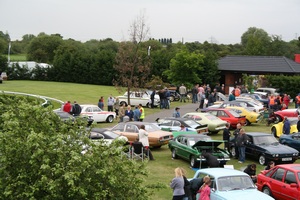 From 2008 to 2012 our Wonderland events included the TIPEC (The Independent Porsche Enthusiasts Club)
Regional Day - one of the biggest such Regional Days was in 2011 (below left).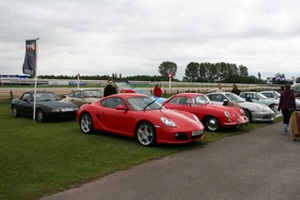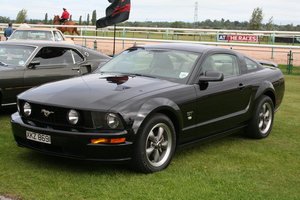 In front of the grandstand we had the 'EXOTICA' - TVR's, Porche's, Americans etc
The photo I chose of the Mustangs (above right) is important because it sums up in one photo the elements of
Wonderland chapter 2 - Old v New cars - The Ford 'Pony' car Mustang has always been an important
part of our shows and is part of our event logo, with a racehorse in the background.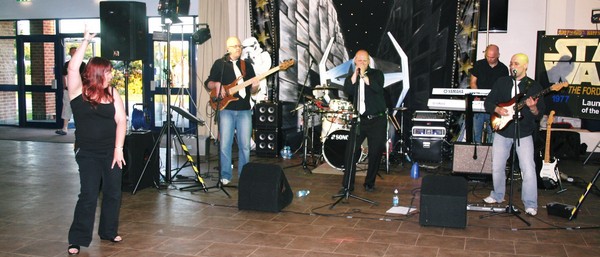 The Consultants band. Over the years, the band playing on Saturday night has been an important part of the
'Wonderland experience'.
We have had quiet a few bands play at Wonderland, none more so than 'The Consultants'.
The Consultants (above) played at all three show venues, playing rock cover tracks from the '60's through to
recent chart tracks and played at a total of seven of our Wonderland shows. Helen Hayward was first on the
dance floor (above) in 2009. Helen was a great help at organising and running many of the Wonderland shows.
Did you know: the first band to play at a Wonderland show, back in 2003, was called "Far Canal"
(yes, say that out alond and see what response you get!)



The CREW 2009 (above). The CREW photo at the end of each show has always been a great tradition of
ours. Rosemarie Revill (far left) and Chris Hayward (3rd from left with the large brim brown hat)
are sadly no longer with us but never forgotten.

All seemed well 'on the surface' at Wonderland 2011, but there were problems brewing.
Southwell racecourse was a brilliant venue with superb facilities, but the food and drinks were expensive and we
were not allowed to bring our cateres on site - so we took the brunt of complaints but could do nothing about it.
Southwell Racecourse is huge. we had some cars and campers parked so far away from each other that they
didn't even know that they were at the same show! the 'cosy' atmosphere was gone and the site was
too big to marshall effectively. The cost for the site fee and security was ramping-up each year,
so we had to find a new venue for Wonderland 2012. We started to look for a new venue and looked at
Nottingham Racecourse (too expensive), Sherwood Pines (too many trees),
Sherwood Forest Steam Railway (Too small),
Thoresby and Clumber Park (too many regulations) - but then one day ...

PART 3 - Ferry Farm, Hoveringham 2012 - 2020 and beyond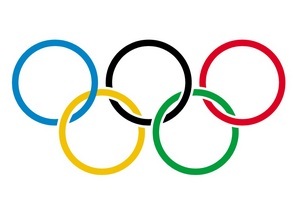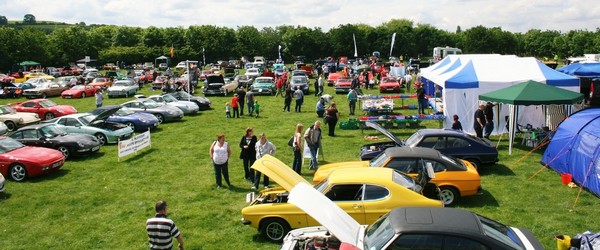 > Back in August 2011 I was reading a copy of my daughter's school magazine 'Primary Times'
and saw and advert for a farm park down by the river Trent at Hoveringham (5 miles from Nottingham),
called 'Ferry Farm'. it sounded like an nice place and was in a lovely part of Nottinghamshire
down by the river. I rang the farm to see if they had an events field that could be used for our
2012 car show.
The answer was "Yes" ... "come down and have a look" - so we did. The site was ideal -
not too far 'off the beaten track' - a beautiful setting - plenty of space -
a farm park for the kids - lovely restaurant - reasonable site fee - RESULT!

Over the following months we measured the entire site because the fields are anything but
regular in shape and thn we could plan for our 2012 event. The move to a 'farm' setting gave the event a
totally different 'feel' and we decided to replace the word "show" with "festival" to let everybody know that we
were aiming to bring back that great friendly atmosphere to our event - and it worked!

Our first year at Ferry Farm was 2012 - Olympic year.
To give the venue that 'festival' look, we added huge brightly coloured flags to the entrance field (below)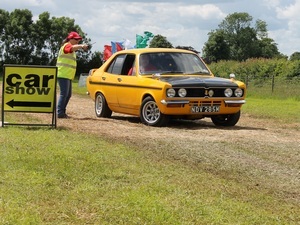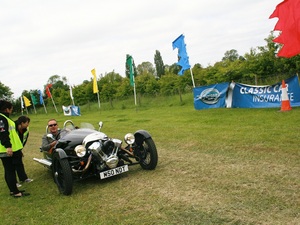 To give our event that 'festival' feel we built a huge 'Meguiar's stage in 2013 (below) on the back of a
40ft trailer and it has been the centre piece for our festivals ever since.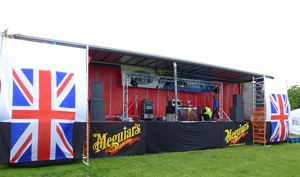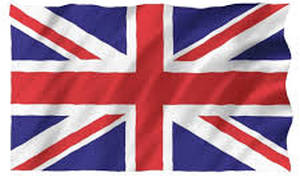 In 2013 we went patriotic and celebrated the ';Best of British' including a superb TVR Car Club Regional Day
display (below left) and our main stage grew in size with the addition of two huge Union flags on either side.
Our promotional material and logo even had more red, white and blue than ever before.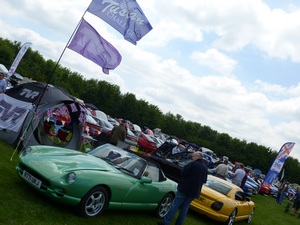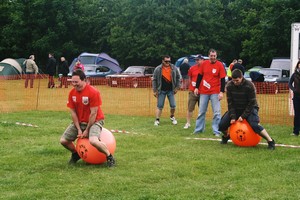 Sadly, 2013 was the last time that we ran the team games.
Team games were always a great part of our Wonderland Saturday afternoon entertainment.
With rising insurance costs, we could no longer justify the extra premium to cover the team games -
we would have had to take out a seperate, and expensive insurance policy just to cover the team games.
Jef leads the way in the Space Hopper race in the final team games in 2013 (above right).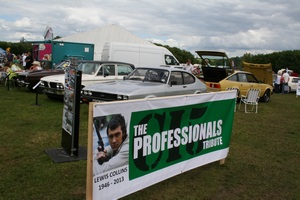 Lewis Collins who played Bodie in the cult TV series 'The Professionals' died in 2013, so we thought it would
be a great tribute to the actor and to the TV series to have a display at Wonderland 2014 celebrating
"The Professionals".
We researched and pulled together a display of cars similar to those used in the TV series ranging from
Glynn Coxon's silver MKIII 3.0S Capri, Rover SD1; TR7, Triumph Dolomite and Rover P1. it made a brilliant
display by the main show field entrance (above). Also in 2014 we celebrated '45 Years of the Capri' with a great
turnout of Capri MKI, II and III's (below left) and it was'50 Years of the Ford Mustang' (below right).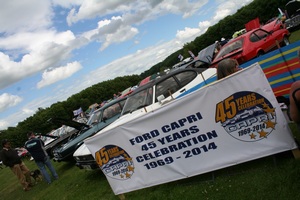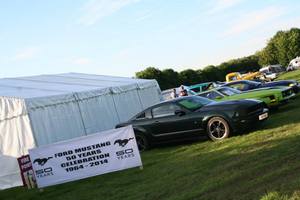 The mud & rain years
The 2015 festival will always be best remembered for the scene below - towing the stranded catering truck
across the fields after heavy rain created a thin layer of slippery mud on the access road on Friday and
Saturday. Ironically, Sunday dawned with bright sunshine and was one of the best ever attended events!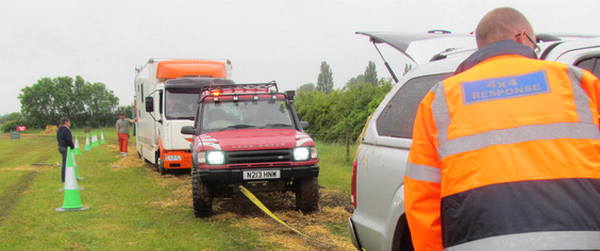 Some of the most extreme machines came to Wonderland2015.Below left is a bright orange Stingray -
this was just AWESOME!below right was an equally amazing and seriously low-riding chromed and
customised orange American muscle machine.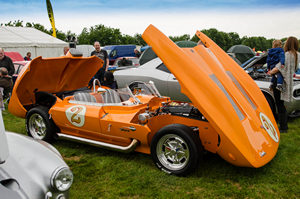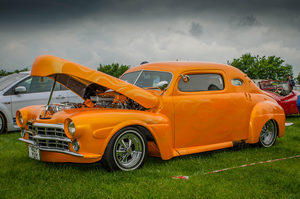 A pair of Metro 6R4 rally cars (below) also roared on site in 2015 - you could hear them a mile away!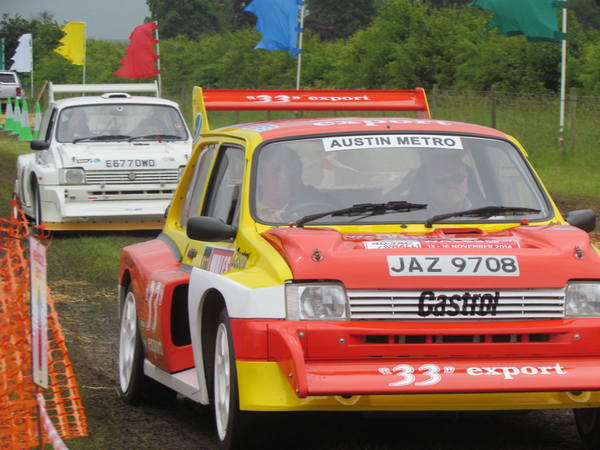 We must have upset the rain Gods a few years ago because in 2016 we were again 'blessed' with torrential
rain on the Friday afternoon - so much so, that our Club marquee was badly damaged and we had to
constantly push water from the roof of the main marquee to prevent that from collapse.
The weekend for Wonderland 2016 was also the Queen's 90th birthday so we knew that the public numbers
would be'down', but our event seemed to be as busy as ever.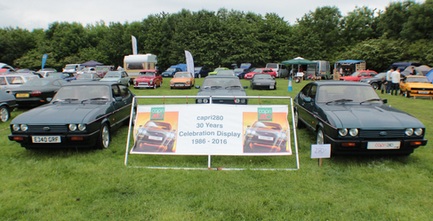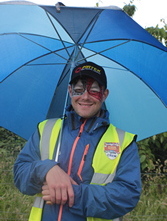 We celebrated 30 Years of the Capri 280 in 2016 with a special display (above left) near the main show field
entrance. Rich put on a face-painted smile (above right) in the rain on Saturday. Mention should be made of
the great effort in 2016from the farm owner Graham for the tonnes of straw that he gave us to spread over
the muddy first field to keep the cars moving.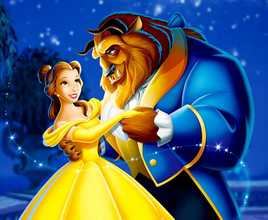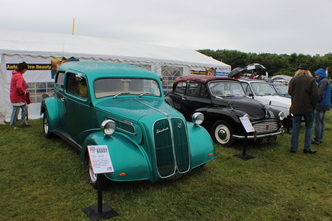 Gary Brady's customised Ford Angia V8 (above) is one of the most regular visitors to our Wonderland
eventsand was the 'Beast' in our "Beauty v Beast" feauture display in 2016.
We had to do something  to break the cycle of rainy Wonderland weekends - so we moved the date into
July for 2017"So, did the gamble of moving the date into July work ?" ... "Oh Yes!"
Wonderland on July 8th & 9th was a stunning success! Good weather reports the previous week made sure
that wehad a bumper turnout of visitors and exhibitors - including WWII Jeeps (below).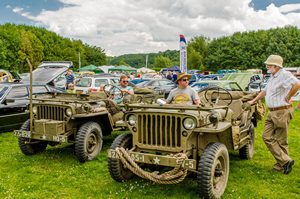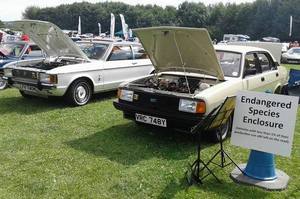 Endangered Species:This display (above right) was very well received abd attracted a lot of attention in
2017. It was an area where you could view examples of vehicles with less than 1% of their production run
still on the road.
Above is a mega-rare 1.3HL Morris Ital owned by Trevor and Brian Ford - one of the stars of 2017.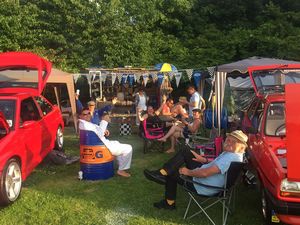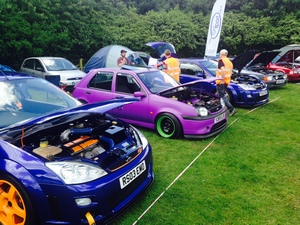 Fordsport: The Fordsport club have supported our festival since the early days back at the Pleasure Park.
Their imagination and effort has no limits hen it comes to their Club stand. The bars and structures that
they build are works of art. If the world was full of enthusiastic members such as those at Fordsport then it
would be a very friendly, colourful, well presented 'planet party'! Above left  is Fordsport's 2017 party bar.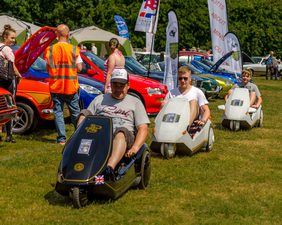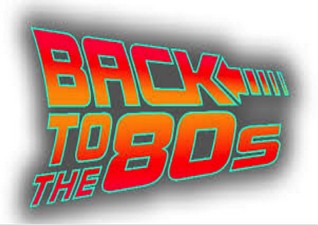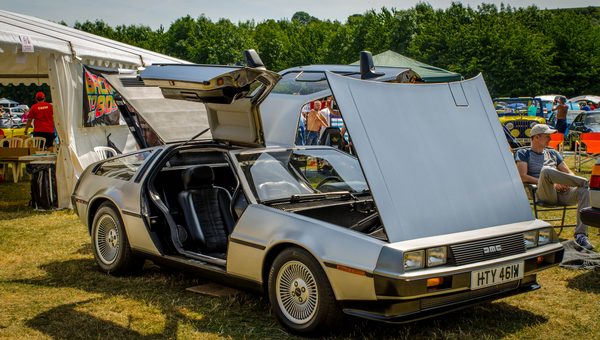 In 2018 we went 'Back to the 80's and featured many of the 80's icons such as Dave Betts'
Delorean (above) and Simon's collection of C5's (above left). Again, glorious ice cream weather all weekend
(below left).
Radio Romantic (Ruth and Joe) played in the main marquee on Saturday night -
they were one of the best acts that we have ever had play at Wonderland - so good that we have
re-booked them for 2021.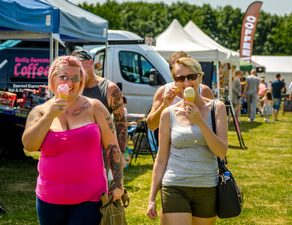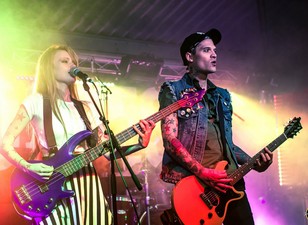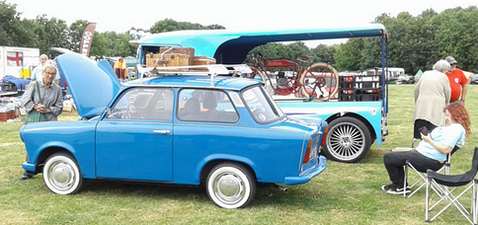 One of the craziest combinations of vehicles one one photo taken at Wonderland must be the one above.
In 2018 the most weird winner of a 'Saturday Car of the night' trophy went to the V8-powered milk float
(above) if the owner reads this web page, we really must see you back at Wonderland again please!
The East German Trabant (above) was another 'first' at Wonderland 2018. With the gorgeous weather we had
an unbelievable number of last minute bookings from both traders and exhibitors.
2019: The best year ever
"So what was the best year ever at Wonderland?" ... in my opinion, 2019 was the 'best year ever' ...
why?
The Capri Timeline that greeted visitors on the Sunday morning was truly awesome!
It took a lot of planning and work on the day but the end result sent a shiver down your spine.
Over 40 Capri's from 1969 to 1986 plus iconic models made a
Capri 50 years display to remember forever (below).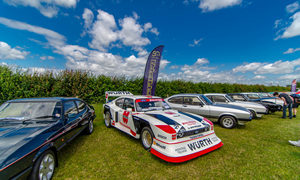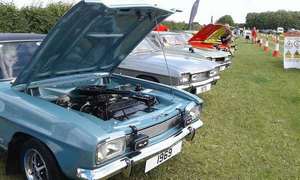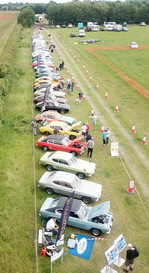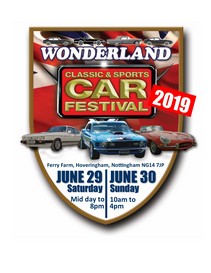 Above; Andy's drone shot of the Capri 50 Years Celebration Timeline at Wonderland 2019.
Chris Taylor's 1969 MKI started off the timeline (above right). More photos from 2019 can be found on the
slideshow further up this page.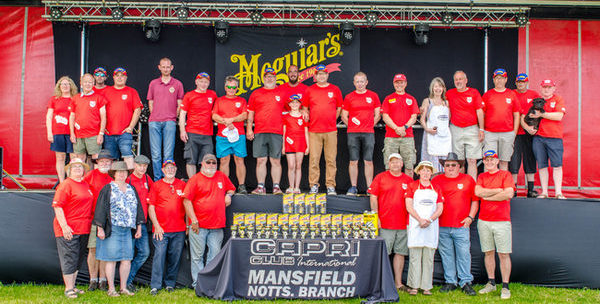 The incredible Capri Club Wonderland Show CREW 2019 who make all this possible!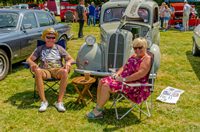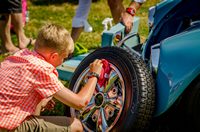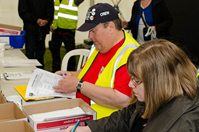 Above (3rd photo across on the far right) - Neal with his CREW cap on checks the entry forms at
Wonderland 2015. Neal was one of our great Wonderland crew characters. RIP Neal 4/5/17

" WONDERLAND has always been, and always will be as much about the people as it is about the
cars. It's not just a Capri show - it's not a Ford show - it's a celebration of motoring and those who
are pasionate about it. The festival is for every age group of vehicle and owner. It does not matter what
age or condition you or your vehicle are in - we love to see you! "

A huge "THANK YOU" to all our CREW members, exhibitors, clubs, traders, sponsors, visitors and
to our photographers, who over the years have helped to make our event the success that it is today!

Alan & all the Wonderland CREW

Festival updates are always available here on line www.capriclub2000.co.uk
Facebook: MansfieldNottsCapriClub
Call/text me (Alan) on 0771 418 1250 for an update or just to have a chat